Infrared Heating Panels
Why use Infrared heating panels?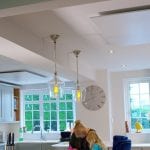 There are 6 main reasons to switch to Infrared panels:
They mainly heat objects in the room, not air, warming up surfaces and objects which then radiate back, even when the heating switches off.
They reduce damp and mould. Because they heat surfaces, not air, they reverse the conditions necessary for moisture and mould to form.
They reduce energy use. A sufficiently insulated building fitted with infrared heaters and controls can expect significant reductions in energy usage compared with electric convection, storage heaters and oil-based central heating systems.
They are maintenance free. Infrared panels require no maintenance or servicing.
They are 100% natural heat. Our panels emit infrared in the "vital range" which is the temperature range at which the water in our skin best absorbs heat.
They are emissions free. Infrared heating panels do not burn fuel and contain no embedded hydrocarbons (e.g. unlike heat pumps). When used with Zero Carbon electricity they are truly emissions-free.
Why Herschel Infrared?
Our Herschel Infrared Heating panels are the UK market leading brand. We supply a wide range of Herschel infra-red panels for all domestic, commercial and outdoor applications.
We guarantee our heaters for up to 10 years. They are built to last and are fully certified and tested to the highest standards.
Infrared heating panels warm rooms very efficiently by gently radiating energy into the room, which then warms up and retains the warmth even once the panels switch off.
Infrared heating panels are silent, maintenance free and easy to install.
You can use Infrared panels to heat your whole house.
White Panels
These highly versatile ir heating panels can be installed on walls or ceilings and are ideal for bedrooms and living areas.
Choose between our German made Inspire range and our high performance Select XLS range.
Mirror Panels
Perfect for heating bathrooms, hallways or bedrooms, Herschel Infrared Mirror heaters do not mist up when they are hot and they radiate cosy, warming far infrared heat directly into the room.
Towel heaters
Heat your bathroom and warm and dry your towels with our dual-zone infrared towel heater, with a hotter top portion to heat your room and a cooler lower helf to warm and dry your towels.
Picture Panels
A stunning centrepiece for any room, our Inspire Picture panels are made in Germany and are guaranteed for 10 years.
Glass Panels
Head-turning glass heater panels, including blackboards.
Patio Heaters
Enjoy more time outside with our extensive range of popular Herschel patio heaters.